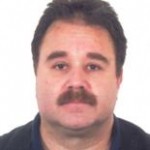 Alexis Conides
Research Director
Short CV
BSc in Biology, University of Athens (1984-1988)
PhD in the Department of Biology, University of Athens (1988-1992)
PhD in the Department of Biology, University of Athens (1999-2011)
He has attended special training courses in:
GIS and its application in Integrated Coastal Zone Management at the Coastal Zone Institute of the University College of Cork, Ireland,
Aquaculture in coastal zone "Modern Aquaculture in the Coastal Zone-Lessons and Opportunities" organized by NATO in Porto, Portugal 13-17 Sept 1998,
Coastal Risk Management and Planning, organized by ICOD Foundation in Valetta, Malta 2-6 Nov 1998,
Application of ISO14001-14014 regarding environmental protection, internal inspection of environmental management systems, international external inspection, in the seminar
"Training of inspectors for environmental management ISO14000" organized by EUCAT SA/CMC International SA in Athens, Greece 25-30 June 2000,
Social and bio-economic analysis of fisheries and environmental data at the University of Maryland at College Park, Fullbright 2001-2002,
Post graduate training in Financial Management of small and medium scale enterprises, University of Athens, interdepartmental training program, 2002-2003,
Post graduate training in socio-economic analysis of fisheries and econometrics in CEMARE institute University of Portsmouth, England, 2003,
Post graduate training in Financial Law, University of Athens, interdepartmental training program, 2003-2004,
Training in ISO 14001:2004 from ELOT, 2005.
During 1988 – 1994, he was a freelance fish biologist working for private aquaculture farms.
During 1994 – today, he worked as a researcher at the Institute for Marine Biological Resources of the Hellenic Centre for Marine Research
During 1996, he was appointed lecturer at the University of Thessaly in the Department of Ichthyology & Aquatic Environment for the course of Aquaculture.
At present he is Senior Researcher (grade A) at the Institute of Marine Biological Resources and Inland Waters of the Hellenic Centre for Marine Research.
He has research interests on fisheries biology of coastal species, population dynamics of coastal fisheries, lagoon management, Integrated Coastal Zone Management. He has participated in 60 national and international projects and co-ordinated 21 International/National projects.
He serves on the Editorial Board of the journals:
Journal of Aquaculture in the Tropics
American Journal of Experimental Agriculture
He is the Editor-in-Chief of the Journal of Animals and their Production, Mehta Press.
He has organized-coordinated 5 Workshops.
He has contributed more than 60 papers in peer-reviewed journals, 12 books and book chapters, as well as more than 70 other publications (i.e., conference proceedings, special publications, newspaper and magazine articles) and co-authored more than 100 technical reports.
Publications
Klaoudatos DS, Conides AJ, Anastasopoulou A, Dulčić J (2013) Age, growth, mortality and sex ratio of the inshore population of the edible crab, Cancer pagurus (LINNAEUS 1758) in South Wales (UK).Journal of Applied Ichthyology 29:579-586
Conides AJ, Nicolaidou A, Apostolopoulou M, Thessalou-Legaki M (2012) Growth, mortality and yield of the mudprawn Upogebia pusilla (Petagna, 1792) (Crustacea: Decapoda: Gebiidea) from Western Greece. Acta Adriatica 53:87-103
Glenn H, Tingley D, Marono S, Holm D, Kell L, Padda G, Edvardsson IR, Asmundsson J, Conides A, Kapiris K, Bezahib M, Wattage P, Kuikka S (2012) Trust in the fisheries scientific community. Marine Policy 36:54-72
Guillen J, Maynou F, Floros C, Sampson D, Conides A, Kapiris K (2012) A bio-economic evaluation of the potential for establishing a commercial fishery on two newly developed stocks: The Ionian red shrimp fishery. Scientia Marina 76:597-605
Kapiris K, Katağan T, Ateş S, Conides A (2012) Review of alien decapods (Crustacea) in the Aegean Sea. Journal of the Black Sea / Mediterranean Environment 18:177-187
Klaoudatos D, Anastasopoulou A, Papaconstantinou C, Conides A (2012) The Greek Experience of Artificial Reef Construction and Management. Journal of Environmental Protection and Ecology 13:1647-1655
Edvardsson I-R, Tingley D, Asmundsson J, Conides A, Drakeford B, Holm D (2011) Fisheries management systems and risk perception amongst fishermen in Iceland, Faroe Islands, and UK. International Journal of Humanities and Social Science 1:31-41
Edvardsson IR, Tingley D, Conides A, Drakeford B, Holm D (2011) Fishermen's risk perception in four European countries. Maritime Studies 10:139-159
Gavrilovic A, Dujacovic J, Bonacic AM, Conides A, Bonacic K, Ljubicic A, van Gorder S (2011) The influence of environmental parameters on the growth and meat quality of the Mediterranean mussel Mytilus galloprovincialis (Mollusca: Bivalvia). AACL Bioflux 4:573-583
Kapiris Κ, Thessalou-Legaki Μ, Petrakis G, Conides A (2010) Ontogenetic shifts and temporal changes the trophic patterns of deep-sea red shrimp Aristaeomorpha foliacea (Decapods, Aristeidae) in the E. Ionian Sea (E. Mediterranean). Marine Ecology 31:341-354
Klaoudatos D, Kapiris C, Conides A, Papaconstantinou C, Glykokokkalos S (2010) Assessment of demersal distribution between two fishing areas in North and Central Greece. International Aquatic Research 2:142-154
Tingley D, Asmundsson J, Borodzicz E, Conides A, Drakeford B, Ejvarjsson IR, Holme D, Kapiris K, Kuikka S, Mortensen B (2010) Risk identification and perception in the fisheries sector: Comparisons between the Faroes, Greece, Iceland and UK. Marine Policy 34:1249-1260
Tomsic S, Conides A, Dupcic-Radic I, Glamuzina B (2010) Growth, size class frequency and reproduction of purple sea urchin, Paracentrotus lividus (Lamark 1816) in Bistrina Bay (Adriatic Sea, Croatia). Acta Adriatica 51:67-77
Bartulovic V, Matic-Skoko S, Lucic D, Conides A, Jasprica N, Joksimovic A, Dulcic J, Glamuzina B (2009) Recruitment and feeding of juvenile leaping grey mullet, Liza saliens (Risso, 1810) in the Neretva River estuary (south-eastern Adriatic, Croatia). Acta Adriatica 50:91-104
Kapiris K, Conides A (2009) Studies on the allometric growth of the caramote prawn Melicertus kerathurus (Decapoda, Penaeidae) in the Western Greece (E. Mediterranean). Mediterranean Marine Science 10:25-34
Conides A, Glamuzina B, Dulcic J, Kapiris K, Jug-Dujakovic J, Papaconstantinou C (2008) Study of the reproduction of the karamote prawn, Penaeus (Melicertus) kerathurus in Amvrakikos Gulf, western Greece. Acta Adriatica 49:97-106
Dulcic J, Kokan B, Vrgoc N, Glamuzina B, Conides A, Skaramuca B (2008) Age, growth and mortality of the red bandfish, Cepola macrophthalma (L.) in the eastern Adriatic Sea. Journal of Applied Ichthyology 24:351-353
Kapiris K, Kallias E, Conides A (2008) Preliminary biological data on Pomadasys incisus(Osteichthyes: Haemulidae) in the Aegean Sea, Greece. Mediterranean Marine Science 9:53-62
Onofri V, Dulčić J, Conides A, Matić-Skoko S, Glamuzina B (2008) The occurrence of the blue crab, Callinectes sapidus Rathbun, 1896 (Decapoda, Brachyura, Portunidae) in the eastern Adriatic (Croatian coast). Crustaceana 81:403-409
Bartulovic V, Glamuzina B, Lucic D, Conides A, Jasprica N, Dulcic J (2007) Recruitment and food composition of juvenile thin-lipped grey mullet, Liza ramada (Risso, 1826), in the Neretva River estuary (eastern Adriatic, Croatia). Acta Adriatica 48:25-37
Glamuzina B, Dulcic J, Conides A, Bartulovic V, Matic-Skoko S, Papaconstantinou C (2007) Some biological parameters of the thin-lipped mullet Liza ramada (Pisces, Mugilidae) in the Neretva River delta (eastern Adriatic, Croatian coast). Vie et Milieu 57:7-13
Bartulović V, Glamuzina B, Conides A, Gavrilović A, Dulčić J (2006) Maturation, reproduction and recruitment of the sand smelt, Atherina boyeri Risso, 1810 (Pisces: Atherinidae) in the estuary of Mala Neretva River (southeastern Adriatic, Croatia). Acta Adriatica 47:5-11
Conides A, Glamuzina B (2006) Laboratory simulation of the effects of environmental salinity on acclimation, feeding and growth of wild-caught juveniles of European sea bass Dicentrarchus labrax and gilthead sea bream, Sparus aurata. Aquaculture 256:235-245
Conides A, Glamuzina B, Jug-Dujacovic J, Papaconstantinou C, Kapiris K (2006) Age, growth, and mortality of the karamote shrimp, Penaeus (Melicertus) kerathurus (Forskål 1775) in the east Ionian Sea (western Greece). Crustaceana 79:33-52
Glamuzina B, Bartulovic V, Dulcic J, Conides A, Tutman P, Matic S, Gavrilovic A, Jug-Dujacovic J, Haskovic E, Ivanc A, Zovko N (2006) Some biological characteristics of the endemic Neretvan nase, Chondrostoma knerii, Heckel 1843, in the Hutovo Blato wetlands (Bosnia and Herzegovina). Journal of Applied Ichthyology 23:221-225
Bartulović V, Conides A, Glamuzina B (2004) Preliminary results on early growth and habitat preference on young wild grey mullets (Mugil cephalus L. 1758) along the east Adriatic coast (Croatia). Rapp Comm int Mer Medit 37:308
Bartulović V, Glamuzina B, Conides A, Dulčić J, Lucic D, Njire J, Kozul V (2004) Age, growth, mortality and sex ratio of sand smelt, Atherina boyeri Risso, 1810 (Pisces: Atherinidae) in the estuary of the Mala Neretva River (middle-eastern Adriatic, Croatia). Journal of Applied Ichthyology 20:427-430
Bartulović V, Lučić D, Conides A, Glamuzina B (2004) Food of sand smelt, Atherina boyeri Risso, 1810 (Pisces: Atherinidae) in the estuary of the Mala Neretva River (middle-eastern Adriatic, Croatia). Scientia Marina 68: 597-604
Conides A, Papaconstantinou C, Glamuzina B (2004). Native mollusc beds: Strategic management, protection, restoration and exploitation. Nase More 51:37-42
Conides A, Papaconstantinou C, Lumare F, Scordella G (2004) Consequences from the management of the artisanal fisheries in Amvrakikos gulf (Western Greece) using the special restricted zone option. Journal of Environmental Protection and Ecology 5:940-946
Conides A, Papaconstantinou C, Lumare F, Scordella G (2004) Management aspects for the coastal fishery of the shrimp Penaeus (Melicertus) kerathurus (Forskal 1775) in Amvrakikos Gulf (Western Greece). Journal of Environmental Protection and Ecology 5:214-222
Conides AJ, Papaconstantinou C, Glamuzina B (2004) Native mollusk beds: Strategic Management, protection, restoration and exploitation. Nase More 51:37-42
Glamuzina B, Tutman P, Conides AJ, Kozul V, Glavic N, Skaramuca B (2003) Preliminary results on growth and feeding of wild-caught young goldblotch grouper, Epinephelus costae, in captivity. J Appl Ichthyol 19:209-214
Scordella G, Lumare F, Conidis A, Papaconstantinou C (2003) First occurrence of the tilapia, Oreochromis niloticus (Linneaus 1758), in Lesina lagoon (East Italian coast). Mediterranean Marine Science 4:41-47
Conides A, Papaconstantinou C, Al-Hassan LJ, Hunter SA (2002) First checklist of marine finfish species in lake Ain-Ziana, Benghazi, Libya (abstract). Journal of Fish Biology 61:275
Conides A, Papaconstantinou C, Hunter SA (2002) Effects of agriculture drainage on estuarine fish and shrimp population of Evinos river delta, Central Greece. (Abstract). Journal of Fish Biology 61:257-258
Diapoulis A, Conides A, Panayotidis P (2002) Diversity and abundance of phytobenthic communities on the coast of the Aegean volcanic arc: Nisyros and Milos Islands (Greece). Fresenius Environmental Bulletin 11:594-598
Conides A, Glamuzina B (2001) Study of the early larval development and growth of the red porgy, Pagrus pagrus with emphasis on the mass mortalities observed during this phase. Scientia Marina 65:193-200
Conides A, Glamuzina B (2001) Study on the effects of rearing density, temperature and salinity on hatching performance of the European sea bass, Dicentrarchus labrax (Linnaeus, 1758). Aquaculture International 9:217-224
Conides A, Papaconstantinou C (2001) The basis of coastal fishery management for small fishing communities: the case of the shrimp (Penaeus kerathurus) fishery in Western Greece. Nase More 48:231-236
Conides AJ, Papaconstantinou C (2001) The basis of Coastal Fishery Management for small Fishing Communities: The Case of the Shrimp (Penaeus kerathurus) Fishery in Western Greece. Nase More48:231-236
Conides AJ, Zacharaki PE (2001) Modelling the effects of Ferres irrigation system (Evros River, North Greece) on the coastal lagoons. Journal of Applied Irrigation Science 2:157-169
Lumare F, Scordella G, Sanna A, Conides A (2001) Effects of dietary cholesterol content on the growth and survival of Marsupenaeus japonicus (Decapoda, Penaeidae) post-larvae (PL4-PL21) fed on compound diets. Rivista Italiana di Acquicoltura 4:137-146
Conides A (2000) Analysis of oxygen-depletion related mortality of European sea bass, Dicentrarchus labrax (L. 1758) fry using standard population dynamics techniques. EAS, Sp. Publ. 28:138-139
Conides A, Al-Hassan LAJ (2000). Using eye lens diameter as age indicator of young Lithognathus mormyrus and Diplodus vulgaris. NAGA, ICLARM 23:21-22
Conides A, Zouganeli P (2000) Modelling the effects of Galatas city irrigation system on the adjacent Evinos river delta in Central-Western Greece. Journal of Applied Irrigation Science 35:101-117
Conides A, Bogdanos C, Diapoulis A (1999) Benthic ecology in Nisyros island, Greece. Fresenius Environmental Bulletin 8:179-192
Conides A, Bogdanos C, Diapoulis A (1999) Seasonal ecological variation of phyto and zoobenthic communities in the south of Nisyros island, Greece. The Environmentalist 19:109-127
Georgopoulos G, Conides A (1999) Study on the effects of dietary starch on growth, food conversion and digestibility of adult gilthead sea bream (Sparus aurata L. 1758).Journal of Aquaculture in the Tropics 14:143-152
Diapoulis A, Bogdanos K, Haritonidis S, Conides A (1998) The impact of pollution on the synthesis of the coastal benthos in the gulf of Kalona (Lesvos Island, Greece). Fresenius environmental bulletin 7:146-152
Conides A, Diapoulis A, Koussouris T (1996) Ecological study of an oil polluted coastal lake ecosystem in Greece. Fresenius Environmental Bulletin 5:324-332
Klaoudatos SD, Conides A (1996) Growth, food conversion, maintenance and long-term survival of Gilthead Sea bream, (Sparus aurata L.) juveniles after abrupt transfer to low salinity. Aquaculture Research 27:765-774
Conides A, Koussouris Th, Fotis G, Gritzalis G, Parpoura A (1995) Nutrient relationships of Greek lakes: A preliminary report on eutrophication monitoring, assessment and forecasting. GeoJournal 36: 383-390
Conides A, Koussouris Th, Gritzalis K, Bertahas I (1995) Zebra mussel, Dreissena polymorpha: population dynamics and notes on control strategies in a reservoir in Western Greece. Lake and Reservoir Management 11:329-336
Conidis A, Koussouris T, Fotis G, Gritzalis K, Parpoura A (1995) Nutrient relationship of Greek lakes: Water eutrophication, monitoring, assessment and forecasting. GeoJournal 36:383-390
Diapoulis A, Conides A, Koussouris T (1994) Interaction between macrophytobenthic groups on the sublittoral belt of a Greek island. Marine Ecology 15:41-50
Conides A, Anastasopoulou K, Fotis G (1993) Application of standard procedure for forcasting the maximum, possible environmental impact of sea bream cage culture in Hellas. International Journal of Environmental Education and Information 12:49-58
Fotis G, Konidis A, Koussouris T, Diapoulis A (1993) Fishery dynamics and development in Kastoria lake, Macedonia, Greece. Fresenius Environmental Bulletin 2:528-533
Conides A, Anastasopoulou K (1992) Report of obsevations on the point-of- no-return of fishes studying the Gilthead sea bream, Sparus aurata juveniles in stravation. Fresenius Environmental Bulletin 2:514-518
Conides A, Fotis G (1992) Sequential events and energy expenditure prior to hatching of the European sea bass, Dicen¬trarchus labrax (Linnaeus, 1758). Fresenius Environmental Bulletin 1:3-6
Conides A, Tsevis N, Klaoudatos S (1992) Somatic measure¬ments and mortality of the prawn population Palaemon adspersus (Rathke, 1837) in Messolonghi lagoon, Western Greece. Fresenius Environmental Bulletin 1:468-471
Conides A, Tsevis N, Yannopoulos C (1992) Studies on sex ratios observed on the prawn Palaemon adspersus (Rathke, 1837) population at Messolonghi lagoon, Greece. Fresenius Environmental Bulletin 1:665-669
Fotis G, Conides A, Koussouris Th, Diapoulis A, Gritzalis K (1992) Fishery potential of lakes in Macedonia, North Greece. Fresenius Environmental Bulletin 1:523-528
Klaoudatos S, Tsevis N, Conides A (1992) Studies on the migratory movements of the prawn Penaeus kerathurus population at Amvrakikos gulf, Western Greece. PSZNI Marine Ecology 13:133-147
Tsevis N, Klaoudatos S, Conides Α (1992) Food conver¬sion budget in sea bass, Dicentrarchus labrax, fingerlings under two different feeding frequency patterns. Aquaculture 101:293-304
Klaoudatos S, Tsevis Ν, Conides Α (1990) Energy sources during the early larval development of the European sea bass Dicentrarchus labrax (L.). Aquaculture 87:361-372