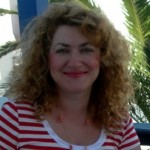 Katerina Anastasopoulou
Assistant Researcher
Short CV
BSc in Ichthyology, Technical School of Ichthyology and Fisheries of Messolonghi, Greece (1988)
Post –graduate Diploma in Education, PATES/ SELETE, Athens, Greece (1990)
BSc in Biology, Kapodistrian University of Athens, Greece (1995)
PhD in the Department of Biology, Kapodistrian University of Athens, Greece (2005)
She has attended special training courses in Methodological advancements in Applied Fish Reproductive Biology, Age determinations of elasmobranchs and other bony fish, Single-species Length based Stock Assessment Methods, Indicators of Environmental Performance of the common Fisheries Policy, Analysis of metapopulations, Histological techniques.
She has participated in several Workshops, such as ICES and FAO Workshops on Sexual Maturity Staging of Hake and Monkfish (WKMSHM), Mackerel and Horse Mackerel (WKMSMAC), on "Age Reading of Red mullet Mullus barbatus and Stripped mullet, Mullus surmuletus" (WKACM), on Sexual Maturity Staging of Elasmatobranches (WKMSEL1 & WKMSEL2), FAO EastMed 1st Meeting of the Permanent Working Group on Stock Assessment, FAO EastMed WG on deep-water resources in the E. Mediterranean, on Age Estimation Methods of Deep Water Species (WKAMDEEP).
During her 24-year career as a researcher at HCMR, she has conducted research on Fisheries biology (reproduction, feeding, age and growth) mainly on demersal and deep fish species, Elasmobranches biology and ecology, Marine litter (on seafloor and ingested by marine organisms), deep-water resources, biodiversity and Ichthyoplankton taxonomy and ecology. She has participated in 27 national and international projects and she has the coordination of a European one.
She is a member of the Hellenic Zoological Society, the Hellenic Society of Ichthyologists and the Panhellenic Society of Technologist- Ichthyologists (Elected Member in the organization committee of the Panhellenic Society of Technologists Ichthyologists for the period 1991-1994). She has organized and co organized 2 International Workshops. She serves on the Editorial Board of the "The Open Fish Science Journal".
She has contributed 15 papers in peer-reviewed journals, one book chapter, as well as more than 70 other publications (i.e., conference proceedings, special publications, newspaper and magazine articles) and co-authored 48 technical reports. She regularly reviews papers for a range of journals.
Publications
Anastasopoulou A, Mytilineou Ch, Lefkaditou E, Dokos J, Smith CJ, Siapatis A, Bekas P, Papadopoulou KN. Diet and feeding strategy of blackmouth catshark Galeus melastomus in the deep-waters of the eastern Mediterranean. Journal of Fish Biology (in press)
Mytilineou Ch, Smith CJ, Anastasopoulou A, Papadopoulou K, Christidis G, Bekas P, Kavadas S, Dokos J. New cold‐water coral occurrences in the eastern Ionian Sea: results from experimental long line fishing. Deep Sea Research II (in press)
Mytilineou Ch, Tsagarakis K, Bekas P, Anastasopoulou A, Kavadas S, Machias A, Haralabous J, Smith CJ, Petrakis G, Dokos J, Kapandagakis A. Spatial distribution and aspects of the life history of blackspot seabream Pagellus bogaraveo (Brünnich 1768) (Osteichtyes: Sparidae) from the Eastern Mediterranean. Journal of Fish Biology (in press)
Anastasopoulou A, Mytilineou Ch, Lefkaditou E, Kavadas S, Bekasv, Smith CJ, Papadopoulou KN, Christides G (2013) The diet and feeding ecology of Conger conger (l. 1758) in the deep waters of the eastern Mediterranean Sea. Mediterranean Marine Science 14:365-368
Anastasopoulou A, Mytilineou Ch, Smith CJ, Papadopoulou KN (2013) Plastic debris ingested by deep-water fish of the Ionian Sea (eastern Mediterranean). Deep-Sea Research I 74:11-13
Klaoudatos DS, Conides AJ, Anastasopoulou A, Dulčić J (2013) Age, growth, mortality and sex ratio of the inshore population of the edible crab, Cancer pagurus (LINNAEUS 1758) in South Wales (UK).Journal of Applied Ichthyology 29:579-586
Klaoudatos D, Anastasopoulou A, Papaconstantinou C, Conides A (2012) The Greek Experience of Artificial Reef Construction and Management. Journal of Environmental Protection and Ecology 13:1647-1655
Mytilineou Ch, Anastasopoulou A, Christides G, Bekas P, Smith CJ, Papadopoulou KN, Lefkaditou E, Kavadas S (2013) New records of rare deep-water fish species in the Eastern Ionian Sea. Journal of Natural History 47:1645-1662
Anastasopoulou A, Kapiris K (2008) Feeding ecology of the shortnose greeneye Chlorophthalmus agassizi Bonaparte 1840 (Pisces: Chlorophthalmidae) in the eastern Ionian Sea (eastern Mediterranean). Journal of Applied Ichthyology 24:170-179
Anastasopoulou A, Yiannopoulos C, Megalophonou P, Papaconstantinou C (2006) Distribution and population structure of the Chlorophthamus agassizi on an unexploited fishing ground in the Greek Ionian Sea. Journal of Applied Ichthyology 22:521-529
Lefkaditou E, Papaconstantinou C, Anastasopoulou K (1999) Juvenile cephalopods collected in the midwater macroplankton over a trench in the Aegean Sea (Northeastern Mediterranean). Israel Journal of Zoology 45:395-405
Papaconstantinou C, Anastasopoulou K, Caragitsou E (1997) Comments of the mesopelagic fauna of the North Aegean Sea. Cybium 21:281-288
Papaconstantinou C, Caragitsou E, Anastasopoulou K (1996) Bathymetric distribution of fish larvae in the N. Aegean Sea. Journal of Fish Biology 49:339-340
Conides A, Anastasopoulou K, Fotis G (1993) Application of standard procedure for forcasting the maximum, possible environmental impact of sea bream cage culture in Hellas. International Journal of Environmental Education and Information 12:49-58
Conides A, Anastasopoulou K (1992) Report of obsevations on the point-of- no-return of fishes studying the Gilthead sea bream, Sparus aurata juveniles in stravation. Fresenius Environmental Bulletin 2:514-518