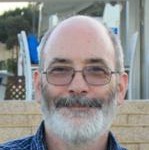 Christopher J. Smith
Research Director
Short CV
B.Sc.(hons) Marine Biology, Heriot Watt University, UK (1980-1984)
Ph.D. Benthic Ecology, Glasgow University, UK (1984-1988)
Chris Smith has been working in Greece for more than 20 years and during this time has participated as IMBC/HCMR Principal Investigator in over 20 EU-funded cooperative research projects and collaborated in more than 30 others, both national and international (very recent EU projects: DEVOTES, BENTHIS, ODEMM, CoralFish, MEECE, PreventEscape, SuSy). His main research interests include:
Ecosystem impacts and interactions: impacts of fishing, aquaculture and impact assessment methodologies.
Benthic ecology: megafaunal and macrofaunal communities and ecology, ecosystem processes and functioning, interactions of functional groups, deep water corals.
Invertebrate fisheries: life histories and ecology, dynamics and assessment, Nephrops norvegicus
Gear technologies: fishing gear selection, alternative fishing techniques (particularly trapping).
Technologies: application of imaging technologies (acoustic and optical), image analysis, seabed mapping and underwater platforms. He has published 30 papers in peer-reviewed international journals, 10 book chapters and has had more than 50 presentations in international conferences.
He has been involved in various international committees over the years, including the ICES Benthos Ecology Working Group and Nephrops Studies Group. If you are really interested you can find his Google Scholar publishing statistics.
He was involved in the first acquisition and scientific applications of remote underwater imaging technologies in Greece and has been responsible for running HCMR's 4 Remotely Operated Vehicle systems, supporting a wide variety of science and service projects. As well as running operations, he has several hundred hours piloting experience. The HCMR ROV systems are part of the Greek State's response to maritime disaster and his team has been involved in the search and recovery work on a variety of helicopters, aircraft, other lost equipment and the cruise liner Sea Diamond.
Publications
Anastasopoulou A, Mytilineou Ch, Lefkaditou E, Dokos J, Smith CJ, Siapatis A, Bekas P, Papadopoulou KN. Diet and feeding strategy of blackmouth catshark Galeus melastomus in the deep-waters of the eastern Mediterranean. Journal of Fish Biology (in press)
Mytilineou Ch, Smith CJ, Anastasopoulou A, Papadopoulou K, Christidis G, Bekas P, Kavadas S, Dokos J. New cold‐water coral occurrences in the eastern Ionian Sea: results from experimental long line fishing. Deep Sea Research II (in press)
Anastasopoulou A, Mytilineou Ch, Lefkaditou E, Kavadas S, Bekasv, Smith CJ, Papadopoulou KN, Christides G (2013) The diet and feeding ecology of Conger conger (l. 1758) in the deep waters of the eastern Mediterranean Sea. Mediterranean Marine Science 14:365-368
Anastasopoulou A, Mytilineou Ch, Smith CJ, Papadopoulou KN (2013) Plastic debris ingested by deep-water fish of the Ionian Sea (eastern Mediterranean). Deep-Sea Research I 74:11-13
Mytilineou Ch, Anastasopoulou A, Christides G, Bekas P, Smith CJ, Papadopoulou KN, Lefkaditou E, Kavadas S (2013) New records of rare deep-water fish species in the Eastern Ionian Sea. Journal of Natural History 47:1645-1662
Mytilineou Ch, Tsagarakis K, Bekas P, Anastasopoulou A, Kavadas S, Machias A, Haralabous J, Smith CJ, Petrakis G, Dokos J, Kapandagakis A (2013) Spatial distribution and aspects of the life history of blackspot seabream Pagellus bogaraveo (Brünnich 1768) (Osteichtyes: Sparidae) from the Eastern Mediterranean. Journal of Fish Biology 83:1551-1575
Batang ZB, Papathanassiou E, Al-Suwailem A, Smith C, Salomidi M, Petihakis G, Alikunhi N, Smith L, Mallon F, Yapici T, Fayad N (2012) First discovery of a cold seep on the continental margin of the central Red Sea. Journal of Marine Systems 94:247-253
Issaris Y, Katsanevakis S, Pantazi M, Vassilopoulou V, Panayotidis P, Kavadas S, Kokkali A, Salomidi M, Frantzis A, Panou A, Damalas D, Klaoudatos D, Sakellariou D, Drakopoulou V, Kyriakidou C, Maina I, Fric J, Smith C, GIakoumi S, Karris G (2012) Ecological mapping and data quality assessment for the needs of ecosystem-based marine spatial management: case study Greek Ionian Sea and the adjacent gulfs. Mediterranean Marine Science 13:297-311
Lastras G, Canals M, Amblas D, Lavoie C, Church I, De Mol B, Duran R, Calafat AM, Hughes-Clarke JE, Smith CJ, Heussner S, "Euroleón" cruise shipboard party 2011 (2011) Understanding sediment dynamics of two large submarine valleys from data: Blanes and La Fonera canyon, northwestern Mediterranean Sea. Marine Geology 280:20-39
Rose KA, Allen JI, Artioli Y, Barange M, Blackford J, Carlotti F, Cropp R, Daewel U, Edwards K, Flynn K, Hill S, Hille Ris Lambers R, Huse G, Megrey B, Moll A, Rivkin R, Salihoglu B, Schrum C, Shannon L, Shin Y, Smith SL, Smith C, Solidoro C, St. John M, Zhou M (2010) End-to-end models for the analysis of marine ecosystems: challenges, issues, and next steps. Marine and Coastal Fisheries: Dynamics, Management, and Ecosystem Science 2:115-130
Capus CG, Banks AC, Coiras E, Tena Ruis I, Smith CJ, Petillot YR (2008) Data correction for visualization and classification of side scan sonar imagery. IET Radar, Sonar and Navigation 2:155-169
Petihakis G, Smith CJ, Triantafyllou G, Sourlantzis G, Papadopoulou K-N, Pollani A, Korres G (2007) Scenario testing of fisheries management strategies using a high resolution ERSEM–POM ecosystem model. ICES Journal of Marine Science 64:1627-1640
Smith CJ, Banks AC, Papadopoulou K-N (2007) Improving the quantitative estimation of trawling impacts from side scan sonar and underwater video imagery. ICES Journal of Marine Science 64:1692-1701
Karakassis I, Machias A, Pitta P, Papadopoulou KN, Smith CJ, Apostolaki ET, Giannoulaki M, Koutsoubas D, Somarakis S (2006) Cross-community congruence of patterns in a marine ecosystem: Do the parts reflect the whole? Marine Ecology Progress Series 310:47-54
Machias A, Karakassis I, Somarakis S, Giannoulaki M, Papadopoulou KN, Smith C (2005) The response of demersal fish communities to the presence of fish farms. Marine Ecology Progress Series 288:241-250
Somarakis S, Stamataki C, Machias A, Papadopoulou K, Smith C, Karakassis I (2004) Condition and fecundity of red mullet over muddy and "coralligene" substrata. Rapp. Comm. int. Mer Medit. 37:443
Lebart K, Smith C, Trucco E, Lane DE (2003) Automatic indexing of underwater survey video: algorithm and benchmarking method. IEEE Journal of Oceanic Engineering 28:673-686
Smith CJ, Marrs SJ, Atkinson RJA, Papadopoulou K-N, Hills JM (2003) Evaluation of the underwater television technique for fisheries-independent stock assessment of Nephrops norvegicus from the Aegean (Eastern Mediterranean). Marine Ecology Progress Series 256:161-170
Smith CJ, Papadopoulou K-N (2003) Burrow density and stock size fluctuations of Nephrops norvegicus in a semi-enclosed bay. ICES Journal of Marine Science 60:798-805
Smith CJ, Rumohr H, Karakassis I, Papadopoulou K-N (2003) Analysing the impact of bottom trawls on sedimentary seabeds with sediment profile imagery. Benthic Dynamics: in situ surveillance of the sediment-water interface. Journal of Experimental Marine Biology and Ecology 285-286:479- 496
Solan M, Germano JD, Rhoads DC, Smith C, Michaud E, Parry D, Wenzhofer F, Kennedy R, Henriques C, Battle E, Carey D, Iocco L, Valente R, Watson J, Rosenberg R (2003) Towards a greater understanding of pattern, scale and process in marine benthic systems: a picture is worth a thousand worms Journal of Experimental Marine Biology and Ecology 285-286:313-338
Karakassis I, Tsapakis M, Smith CJ, Rumohr H (2002) Fish farming impacts in the Mediterranean studies through sediment profile imagery (SPI). Marine Ecology Progress Series 227:125-133
Lebart K, Petillot Y, Smith CJ, Lane D, Trucco E (2002) Video sensors play major role in subsea scientific missions. Sea Technology 44:10-17
Smith CJ, Papadopoulou K-N, Diliberto S (2000) Impact of Otter trawling on an eastern Mediterranean commercial fishing ground. ICES Journal of Marine Science 57:1340-1351
Anagnostou EN,  Krajewski WF, Smith J (1999) Uncertainty Quantification of Mean-Field Radar-Rainfall Estimates. Journal of Atmospheric and Oceanic Technology 16:206-215
Hughes DJ, Marrs SJ, Smith CJ, Atkinson RJA (1999) Observations of the echiuran worm Bonellia viridis in the deep basin of the northern Evoikos Gulf, Greece. Journal of the Marine Biological Association of the United Kingdom 79:361-363
Lane DM, Davies JBC, Robinson G, O'Brien DJ, Pickett M, Jones D, Scott E, Casalino G, Bartolini G, Cannata G, Ferrara A, Angelleti D, Coccoli M, Verrugio G, Bono R, Virgili P, Canals M, Pallas R, Gracia E, Smith C (1997) AMADEUS: Advanced manipulation for deep underwater sampling. Robotics and Automation Magazine 4:34-45
Tuck ID, Taylor AC, Atkinson RJA, Gamitto M, Smith CJ (1997) Biochemical composition of Nephrops norvegicus: changes associated with ovary maturation. Marine Biology 129:505-511
Karakassis I, Smith CJ, Eleftheriou A (1996) Performance of neutral model analysis in a spatio-temporal series of macrobenthic replicates. Marine Ecology Progress Series 137:173-179
Dando PR, Hughes JA, Leahy Y, Niven SJ, Smith CJ, Taylor LJ (1995) Gas venting from submarine hydrothermal areas around the island of Milos in the Hellenic Volcanic Arc. Continental Shelf Research 15: 913-928
Danovaro R, Della Croce N, Eleftheriou A, Fabiano M, Papadopoulou N, Smith CJ, Tselepides A (1995) Meiobenthos of the deep Eastern Mediterranean Sea: distribution and abundance in relation to bacterial biomass, organic matter composition and environmental factors. Progress in Oceanography 36:329-341
Nickel LA, Atkinson RJA, Hughes DJ, Ansell AD, Smith CJ (1995) Burrow morphology of the echiuran worm Maxmuelleria lankesteri (Echiura: Bonelliidae). Journal of Natural History 29:871-885