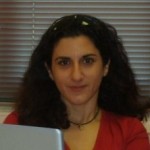 Marianna Giannoulaki
Main Researcher
Short CV
BSc in Biology, School of Biology, Kapodistrian University of Athens, Greece (1990-1995)
MSc in Marine Biology, Biology Department, University of Crete, Greece (1996-1997)
PhD in Marine Biology, Biology Department, University of Crete, Greece (1998-2003)
She has attended special training courses in fisheries acoustics and acoustic data analysis, stock assessment using FLR, habitat modeling techniques, analyzing biological and environmental field data, sampling design for field data, geostatistical analysis for acoustic surveys, Introduction to Bayesian inference in fisheries science, food web modeling.
She has been working as a research scientist at HCMR since 1998, and has acquired a broad experience as a fisheries biologist. She assumed her duties as a Researcher in HCMR in October 2006. Since November 2011, she is a Main Researcher at the Institute of Marine Biological Resources and Inland Waters at HCMR. So far, she has supervised two MSc and co-supervised two MSc theses.
She has multidisciplinary research interests, focusing on population dynamics of small pelagic fish, physical/biological interactions in marine ecosystems, fisheries acoustics, spatial analysis techniques, determination of essential fish habitat and habitat suitability modelling, food web modelling as well as stock assessment modelling techniques.
She is an active member of the acoustic surveys (MEDIAS) and the acoustic data analysis for the estimation of pelagic fish stocks biomass off the Greek coast and currently the scientific coordinator of the "AcousMed" project that concerns the harmonization of historical acoustic surveys in the Mediterranean Sea.
She has a high level of expertise on spatial analysis techniques, predominantly geostatistics and generalised additive models. She has done pioneer work within the Mediterranean region in respect to the application of habitat suitability models for small pelagic fish species. She has participated in 19 national and international projects and co-ordinated 3 European Union (EU) projects.
She is an active member of the stock assessment study groups in the Mediterranean region (i.e. GFCM, STECF, FAO-EastMed) being responsible for the application of stock assessment models for anchovy and sardine stocks in the Greek Seas, providing essential information for management advice and the production of fishery management plans.
She has organized/coordinated an International Workshop on the use of geostatistical techniques on acoustic surveys design (ICES WGACUGEO), as well as workshops within the framework of scientific projects on the application of habitat modeling techniques. She has contributed 25 papers in peer-reviewed journals, 3 book chapters, as well as more than 90 other publications (i.e., conference proceedings, special publications, newspaper and magazines) and co-authored more than 15 technical reports.
Publications
Giannoulaki M, Iglesias M, Tugores MP, Bonanno A, Patti B, De Felice A, Leonori I, Bigot JL, Tičin AV, Pyrounaki MM, Tsagarakis K, Machias A, Somarakis S, Schismenou E, Quinci E, Basilone G, Cuttitta A, Campanella F, Miquel J, Oñate D, Roos D, Valavanis V (2013) Characterising the potential habitat of European anchovy Engraulis encrasicolus in the Mediterranean Sea at different life stages. Fisheries Oceanography 22:69-89
Machias A, Pyrounaki MM, Leonori I, Basilone G, Iglesias M, de Felice A, Bonanno A, Giannoulaki (2013) Catch of pelagic hauls in Mediterranean acoustic surveys: Is it the same between day and night? Scientia Marina 77:69-79
Somarakis S, Schismenou E, Siapatis A, Giannoulaki M, Kallianiotis A, Machias A (2012) High variability in the Daily Egg Production Method parameters of an eastern Mediterranean anchovy stock: Influence of environmental factors, fish condition and population density. Fisheries Research 117-118:12-21
Tsagarakis K, Giannoulaki M, Somarakis S, Machias A (2012) Variability in positional, energetic and morphometric descriptors of European anchovy (Engraulis encrasicolus) schools related to patterns of diurnal vertical migration. Marine Ecology Progress Series 446:243-258
Tsagarakis K, Pyrounaki MM, Giannoulaki M, Somarakis S, Machias A (2012) Ontogenetic shift in the schooling behaviour of sardine (Sardina pilchardus). Animal Behaviour 84:437-443
Antonakakis K, Giannoulaki M, MachiasA, Somarakis S, Sanchez S, Ibaibarriaga L, Uriarte A (2011) Assessment of the sardine (Sardina pilchardus Walbaum, 1792) fishery in the eastern Mediterraanean basin (north Aegean Sea). Mediterranean Marine Science 12:333-357
Colloca F, Cardinale M, Maynou F, Giannoulaki M, Scarcella G, Jenko K, Bellido JM, Fiorentino F (2011) Rebuilding Mediterranean fisheries: toward a new paradigm for ecological sustainability in single species population models. Fish and Fisheries 14:89-109
Giannoulaki M, Pyrounaki MM, Liorzou B, Leonori I, Valavanis DV, Tsagarakis K, Bigot JL, Roos D, De Felice A, Campanella F, Somarakis S, Arneri E,Machias A (2011) Habitat suitability modelling for sardine (Sardina pilchardus) juveniles in the Mediterranean Sea. Fisheries Oceanography 20:367-382
Trenkel VM, Ressler PH, Jech M, Giannoulaki M, Taylor C (2011) Underwater acoustics for ecosystem-based management: state of the science and proposals for ecosystem indicators. Marine Ecology Progress Series 442:285-301
Tugores MP, Giannoulaki M, Iglesias M, Bonanno A, Ticina V, Leonori I, Machias A, Tsagarakis K, DIaz N, Giraldez A, Patti B, De Felice A, Basilone G, Valavanis V (2011) Habitat suitability modeling for sardine (Sardina pilchardus) in a highly diverse ecosystem: the Mediterranean Sea. Marine Ecology Progress Series 443:181-205
Tsagarakis K, Coll M, Giannoulaki M, Somarakis S, Papaconstantinou C, Machias A (2010) Food-web traits of the north Aegean Sea ecosystem (eastern Mediterranean, Greece) and comparison with other Mediterranean ecosystems. Estuarine, Coastal and Shelf Science 88:233-248
Giannoulaki M, Valavanis VD, Palialexis A, Tsagarakis K, Machias A, Somarakis S, Papaconstantinou C (2008) Modelling the presence of anchovy Engraulis encrasicolus in the Aegean Sea during early summer, based on satellite environmental data. Hydrobiologia 612: 225-240
Schismenou E, Giannoulaki M, Valavanis VD, Somarakis S (2008) Modeling and predicting potential spawning habitat of anchovy (Engraulis encrasicolus) and round sardinella (Sardinella aurita) based on satellite environmental information. Hydrobiologia 612:201-214
Siapatis A, Giannoulaki M, Valavanis VD, Palialexis A, Schismenou E, Machias A, Somarakis S (2008) Modelling potential habitat of the invasive ctenophore Mnemiopsisleidyi in Aegean Sea. Hydrobiologia 612:281–295
Tsagarakis K, Machias A, Giannoulaki M, Somarakis S, Karakassis I (2008) Seasonal and temporal trends in metrics of fish community for otter – trawl discards in a Mediterranean ecosystem. ICES Journal of Marine Science 65:539-550
Tsagarakis K, Machias A, Somarakis S, Giannoulaki M, Palialexis A, Papaconstantinou C, Valavanis V (2008) Habitat discrimination of juvenile sardines in the Aegean Sea using remote sensing environmental data. Hydrobiologia 612: 215-223
Giannoulaki M, Machias A, Koutsikopoulos C, Somarakis S (2006) The effect of coastal topography on the spatial structure of anchovy and sardine. ICES Journal of Marine Science 63:650-662
Karakassis I, Machias A, Pitta P, Papadopoulou KN, Smith CJ, Apostolaki ET, Giannoulaki M, Koutsoubas D, Somarakis S (2006) Cross-community congruence of patterns in a marine ecosystem: Do the parts reflect the whole? Marine Ecology Progress Series 310:47-54
Machias A, Giannoulaki M, Somarakis S, Maravelias CD, Neofitou C, Koutsoubas D, Papadopoulou KN, Karakassis I (2006) Fish farming effects on local fisheries landings in oligotrophic seas. Aquaculture 261:809-816
Giannoulaki M, Machias A, Somarakis S, Karakassis I (2005) Wild fish spatial structure in response to presence of fish farms. Journal of Marine Biological Association of the United Kingdom 85:1271-1277
Giannoulaki M, Machias A, Somarakis S, Tsimenides N (2005) The spatial distribution of anchovy and sardine in the northern Aegean Sea in relation to hydrographic regimes. Belgian Journal of Zoology 135:151-156
Machias A, Karakassis I, Somarakis S, Giannoulaki M, Papadopoulou KN, Smith C (2005) The response of demersal fish communities to the presence of fish farms. Marine Ecology Progress Series 288:241-250
Pitta P, Apostolaki ET, Giannoulaki M, Karakassis I (2005) Mesoscale changes in the water column in response to fish farming zones in three coastal areas in the Eastern Mediterranean Sea. Estuarine Coastal and Shelf Science 65:501-512
Giannoulaki M, Machias A, Koutsikopoulos C, Somarakis S, Tsimenides N (2004) Acoustic-geostatistical assessment and habitat-abundance relationships of sardine in the Hellenic Seas. Rapp Comm int Mer Medit 37:363
Giannoulaki M, Machias A, Koutsikopoulos C, Haralabous J, Somarakis S, Tsimenides N (2003) The effect of coastal topography on the spatial structure of the populations of small pelagic fish.Marine Ecology Progress Series 265:243-253
Giannoulaki M, Machias A, Tsimenides N (1999) Ambient luminance and vertical migration of sardine (Sardina pilchardus). Marine Ecology Progress Series 173:275-288