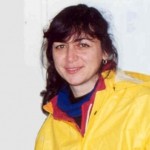 Short CV
BSc in Biology, School of Biology, Aristotle University of Thessaloniki (1983)
MSc in Biological Oceanography, University of Athens (1987)
She has attended special training courses in Statistics and Fisheries Statistics, Fisheries biology of Crustaceans, Population dynamics, Ageing of Fish and Crustaceans, Fish hermaphroditism, gonad histology and gametogenesis, Metapopulation analysis.
During 30 years of work in the above domains, she has held a position as an assistant researcher in HCMR.
She has research interests on Fisheries Biology and Ecology, Population dynamics, Selectivity of fishing gears, Deep-water biological resources and fisheries, Fisheries impact on biological resources and biodiversity, Fish and Crustaceans Age, Growth, Reproduction, Hermaphroditism and Diet and Fish behaviour.She has participated in 19 national and international projects and co-ordinated 5 European Union (EU) projects.
She has participated in the Steering Committee of 1 international FP7 project and organized/coordinated 1 Workshop of ICES.She has supervised the training of 7 BSc students. She has contributed 29 papers in peer-reviewed journals, 3 book chapters, 3 books, as well as more than 125 other publications (i.e., conference proceedings, special publications, newspaper and magazine articles) and co-authored 50 technical reports.
Publications
Anastasopoulou A, Mytilineou Ch, Lefkaditou E, Dokos J, Smith CJ, Siapatis A, Bekas P, Papadopoulou KN. Diet and feeding strategy of blackmouth catshark Galeus melastomus in the deep-waters of the eastern Mediterranean. Journal of Fish Biology (in press)
Mytilineou Ch, Smith CJ, Anastasopoulou A, Papadopoulou K, Christidis G, Bekas P, Kavadas S, Dokos J. New cold‐water coral occurrences in the eastern Ionian Sea: results from experimental long line fishing. Deep Sea Research II (in press)
Anastasopoulou A, Mytilineou Ch, Lefkaditou E, Kavadas S, Bekasv, Smith CJ, Papadopoulou KN, Christides G (2013) The diet and feeding ecology of Conger conger (l. 1758) in the deep waters of the eastern Mediterranean Sea. Mediterranean Marine Science 14:365-368
Anastasopoulou A, Mytilineou Ch, Smith CJ, Papadopoulou KN (2013) Plastic debris ingested by deep-water fish of the Ionian Sea (eastern Mediterranean). Deep-Sea Research I 74:11-13
Large PA, Agnew DJ, Cleote R, Damalas D, Dransfield L, Edwards CTT, Feist S, Figueiredo I, Barrio-Frojan C, González F, Gil-Herrera J, Kenny A, Jakobsdóttir K, Longshore M, Lorance P, Marchal P, Mytilineou Ch, Perez A, Planque B, Politou Ch-Y (2013) Strengths and weaknesses of the management and monitoring of deep-water stocks, fisheries and ecosystems in various areas of the world – a roadmap towards sustainable deep-water fisheries in the northeast Atlantic. Reviews in Fisheries Science 21:157-180
Mytilineou Ch, Tsagarakis K, Bekas P, Anastasopoulou A, Kavadas S, Machias A, Haralabous J, Smith CJ, Petrakis G, Dokos J, Kapandagakis A (2013) Spatial distribution and aspects of the life history of blackspot seabream Pagellus bogaraveo (Brünnich 1768) (Osteichtyes: Sparidae) from the Eastern Mediterranean. Journal of Fish Biology 83:1551-1575
Mytilineou Ch, Anastasopoulou A, Christides G, Bekas P, Smith CJ, Papadopoulou KN, Lefkaditou E, Kavadas S (2013) New records of rare deep-water fish species in the Eastern Ionian Sea. Journal of Natural History 47:1645-1662
Politou C-Y,  Mytilineou Ch, D'Onghia G, Dokos J (2008) Demersal faunal assemblages in the deep waters of the eastern Ionian Sea. Journal of Natural History 42:661-672
D'Onghia G, Sion L, Maiorano P, Mytilineou Ch, Dalessandro S, Carlucci R, Desantis S (2006) Population biology and life strategies of Chlorophthalmus agassizii Bonaparte, 1840 (Pisces: Osteichthyes) in the Mediterranean Sea. Marine Biology 149:435-446
Mytilineou Ch, Kavadas S, Politou C-Y, Kapiris K, Tursi A, Maiorano P (2006) Catch composition in red shrimp (Aristaeomorpha foliacea and Aristeus antennatus) grounds in the eastern Ionian Sea. Hydrobiologia 557:255-160
D'Onghia G, Capezzuto F, Mytilineou Ch, Maiorano P, Kapiris K, Carlucci R, Sion L, Tursi A (2005) Comparison of the population structure and dynamics of Aristeus antennatus (Risso, 1816) between exploited and unexploited areas in the Mediterranean Sea. Fisheries Research 76:22-38
Mytilineou Ch, Politou C-Y, Papaconstantinou C, Kavadas S, D' Onghia G, Sion L (2005) Deep-water fish fauna in the eastern Ionian Sea (Greece). Belgian Journal of Zoology 135(2): 229-233.
Politou C-Y, Maiorano P, D'Onghia G, Mytilineou Ch (2005) Deep-water decapod crustacean fauna of the Eastern Ionian Sea. Belgian Journal of Zoology 135:235-241
D'Onghia G, Politou C-Y, Mastrototaro F, Mytilineou Ch, Tursi A (2003) Biodiversity from the upper slope demersal community of the Central Mediterranean: preliminary comparison between two areas with and without fishing impact. Journal  of  Northwest  Atlantic  Fishery  Science 31:263-273
Zacharias I, Dimitriou E, Koussouris T (2003) Developing sustainable water management scenarios by using thorough hydrologic analysis and environmental criteria. Journal of Environmental  Management 69:401-412
Mytilineou Ch, Politou C-Y, Fourtouni A (1998) Trawl selectivity studies on Nephrops norvegicus (L.) in the Eastern Mediterranean Sea. Scientio Marina 62:107-116
Papaconstantinou C, Petrakis G, Mytilineou C, Politou C-Y, Vassilopoulou V (1994) The fishfauna of the eastern coast of Greece. Biologia Gallo-Hellenica 22:363-374
Mytilineou C, Papaconstantinou C (1991) Age and growth of Spicara flexuosa (Raf. 1810) in the Patraikos Gulf (Greece). Scientia Marina 55:483-490
Papaconstantinou C, Mytilineou C, Panos T (1988) Age, growth, condition factor and mortality of red pandora (Pagellus erythrinus, L) off the western coasts of Greece. Cybium 12:272-285