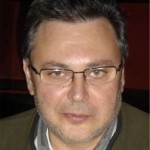 Stylianos Somarakis
Research Director
Short CV
BSc in Biology, Department of Biology, University of Crete (1987-1991)
MSc in Marine Biology, Department of Biology, University of Crete (1991-1993)
PhD in the Laboratory of Fisheries Biology, Department of Biology, University of Crete (1994-1999)
Dr. Somarakis assumed his duties on January 2008. He was a Lecturer in the Biology Department of the University of Patras from 2002 to 2006 and Assistant Professor in the Biology Department of the University of Crete in 2007.He is an expert on ichthyoplankton, egg production methods, larval fish ecology, fish reproduction and pelagic food webs, with long experience on small pelagic fish and fisheries.He has participated in 42 national and international projects.
He was chairman (2005-2008) of the Working Group on small pelagics of the General Fisheries Council for the Mediterranean (GFCM-Scientific Advisory Committee). He was co-leader (2007-2011) in a Working Group on fish reproductive potential of the European Action: "Fish Reproduction and Fisheries" (COST Action FA0601) and the North Atlantic Fisheries Organization (NAFO). He is a member of the Scientific Technical and Economic Committee for Fisheries (DG MARE) since 2003.He supervise(d)s 6 MSc and 2 PhD theses and co-supervise(d)s 3 PhD theses.
He serves on the Editorial Board of the journals Marine Ecology Progress Series and Scientia Marina.
He has contributed 78 papers in peer-reviewed journals, 16 book chapters, as well as more than 135 other publications (i.e., conference proceedings, special publications, newspaper and magazine articles).
Publications
Loizides M, Georgiou AN, Somarakis S, Witten PE, Koumoundouros G (2014) A new type of lordosis and vertebral body compression in Gilthead sea bream, Sparus aurata L.: aetiology, anatomy and consequences for survival. Journal of Fish Diseases, doi:10.1111/jfd.12189
McBride RS, Somarakis S, Fitzhugh GR, Albert A, Yaragina NA, Wuenschel MJ, Alonso-Fernández A, Basilone G (2014) Energy acquisition and allocation to egg production in relation to fish reproductive strategies. Fish and Fisheries, doi:10.1111/faf.12043
Nikolioudakis N, Isari S, Somarakis S (2014) Trophodynamics of anchovy in a non-upwelling system: Direct comparison with sardine. Marine Ecology Progress Series, doi:10.3354/meps10604
Tzanatos E, Raitsos DE, Triantafyllou G, Somarakis S, Tsonis AA (2014) Indications of a climate effect on Mediterranean fisheries. Climatic Change 122:41-54
Giannoulaki M, Iglesias M, Tugores MP, Bonanno A, Patti B, De Felice A, Leonori I, Bigot JL, Tičin AV, Pyrounaki MM, Tsagarakis K, Machias A, Somarakis S, Schismenou E, Quinci E, Basilone G, Cuttitta A, Campanella F, Miquel J, Oñate D, Roos D, Valavanis V (2013) Characterising the potential habitat of European anchovy Engraulis encrasicolus in the Mediterranean Sea at different life stages. Fisheries Oceanography 22:69-89
Neofytou M, Somarakis S, Papadakis V, Divanach P, Sterioti A, Kentouri M (2013) Effect of temperature, stocking density, feeding conditions and experimental day on the horizontal and vertical distribution of sea bass fry Dicentrarchus labrax (Linnaeus, 1758). Journal of Biological Research 19:99-110
Schismenou E, Tsiaras K, Kourepini MI, Lefkaditou E, Triantafyllou G, Somarakis S (2013) Seasonal changes in growth and condition of anchovy late larvae explained with a hydrodynamic- biogeochemical model simulation. Marine Ecology Progress Series 478:197-209
Somarakis S, Pavlidis M, Saapoglou C, Tsigenopoulos CS, Dempster T (2013) Evidence for 'escape through spawning' in large gilthead sea bream Sparus aurata reared in commercial sea-cages. Aquaculture Environment Interactions 3:135-152
Arechavala-Lopez P, Sanchez-Jerez P, Bayle-Sempere JT, Sfakianakis DG, Somarakis S (2012) Discriminating farmed gilthead sea bream Sparus aurata and European sea bass Dicentrarchus labrax from wild stocks through scales and otoliths. Journal of Fish Biology 80:2159-2175
Arechavala-Lopez P, Sanchez-Jerez P, Bayle-Sempere JT, Sfakianakis DG, Somarakis S (2012) Morphological differences between wild and farmed Mediterranean fish. Hydrobiologia 679:217-231
Bernal M, Somarakis S, Witthames PR, vanDamme CJG, Uriarte A, Lo NCH, Dickey-Collas M (2012) Egg production methods in marine fisheries: An introduction. Fisheries Research 117-118:1-5
Dickey-Collas M, Somarakis S, Witthames PR, vanDamme CJG, Uriarte A, Lo NCH, Bernal M (2012) Where do egg production methods for estimating fish biomass go from here? Fisheries Research 117-118:6-11
Nikolioudakis N, Isari S, Pitta P, Somarakis S (2012) Diet of sardine Sardina pilchardus: an "end-to-end" field study. Marine Ecology Progress Series 453:173-188
Schismenou E, Somarakis S, Thorsen A, Kjesbu OS (2012) Dynamics of de novo vitellogenesis in fish with indeterminate fecundity: an application of oocyte packing density theory to European anchovy, Engraulis encrasicolus. Marine Biology 159:757-768
Somarakis S, Schismenou E, Siapatis A, Giannoulaki M, Kallianiotis A, Machias A (2012) High variability in the Daily Egg Production Method parameters of an eastern Mediterranean anchovy stock: Influence of environmental factors, fish condition and population density. Fisheries Research 117-118:12-21
Tsagarakis K, Giannoulaki M, Somarakis S, Machias A (2012) Variability in positional, energetic and morphometric descriptors of European anchovy (Engraulis encrasicolus) schools related to patterns of diurnal vertical migration. Marine Ecology Progress Series 446:243-258
Tsagarakis K, Pyrounaki MM, Giannoulaki M, Somarakis S, Machias A (2012) Ontogenetic shift in the schooling behaviour of sardine (Sardina pilchardus). Animal Behaviour 84:437-443
Antonakakis K, Giannoulaki M, MachiasA, Somarakis S, Sanchez S, Ibaibarriaga L, Uriarte A (2011) Assessment of the sardine (Sardina pilchardus Walbaum, 1792) fishery in the eastern Mediterraanean basin (north Aegean Sea). Mediterranean Marine Science 12:333-357
Giannoulaki M, Pyrounaki MM, Liorzou B, Leonori I, Valavanis DV, Tsagarakis K, Bigot JL, Roos D, De Felice A, Campanella F, Somarakis S, Arneri E,Machias A (2011) Habitat suitability modelling for sardine (Sardina pilchardus) juveniles in the Mediterranean Sea. Fisheries Oceanography 20:367-382
Isari S, Somarakis S, Christou ED, Fragopoulu N (2011) Summer mesozooplankton assemblages in the north-eastern Aegean Sea: The influence of Black Sea water and an associated anticyclonic eddy. Journal of the Marine Biological Association of the United Kingdom 91:51-63
Nikolioudakis N, Palomera I, Machias A, Somarakis S (2011) Diel feeding intensity and daily ration of the sardine Sardina pilchardus. Marine Ecology Progress Series 437:215-228
Politikos DV, Triantafyllou G, Petihakis G, Tsiaras K, Somarakis S, Ito S-I, Megrey BA (2011) Application of a bioenergetics growth model for European anchovy (Engraulis encrasicolus) linked with a lower trophic level ecosystem model. Hydrobiologia 670:141-163
Somarakis S, Isari S, Machias A (2011) Larval fish assemblages in coastal waters of central Greece: reflections of topographic and oceanographic heterogeneity. Scientia Marina 75:605-618
Somarakis S, Ramfos A, Palialexis A, Valavanis VD (2011) Contrasting multispecies patterns in larval fish production trace inter-annual variability in oceanographic conditions over the NE Aegean Sea continental shelf (eastern Mediterranean). Hydrobiologia 670:275-287
Nikolioudakis N, Koumoundouros G, Kiparissis S, Somarakis S (2010) Defining length-at-metamorphosis in fishes: a multi-character approach. Marine Biology 157:991-1001
Somarakis S, Nikolioudakis N (2010) What makes a late anchovy larva? The development of the caudal fin seen as a milestone in fish ontogeny. Journal of Plankton Research 32:317-326
Tsagarakis K, Coll M, Giannoulaki M, Somarakis S, Papaconstantinou C, Machias A (2010) Food-web traits of the north Aegean Sea ecosystem (eastern Mediterranean, Greece) and comparison with other Mediterranean ecosystems. Estuarine, Coastal and Shelf Science 88:233-248
Giannoulaki M, Valavanis VD, Palialexis A, Tsagarakis K, Machias A, Somarakis S, Papaconstantinou C (2008) Modelling the presence of anchovy Engraulis encrasicolus in the Aegean Sea during early summer, based on satellite environmental data. Hydrobiologia 612: 225-240
Isari S, Fragopoulu N, Somarakis S (2008) Interranual variability in horizontal patterns of larval fish assemblages in the northeastern Aegean Sea (eastern Mediterranean) during early summer. Estuarine Coastal and Shelf Science 79:607-619
Kiparisis S, Tserpes G, Somarakis S, Economidis P, Koutsikopoulos K (2008) Site-attachment behaviour of Oblada melanura (Linnaeus, 1758) (Osteichthyes: Sparidae) benthic larvae: a quantitative approach. Scientia Marina 72:429-436
Machias A, Stergiou KI, Somarakis S, Karpouzi VS, Kpantagakis A (2008) Trends in trawl and purse seine catch rates in the north-eastern Mediterranean. Mediterranean Marine Science 9:49-65
Schismenou E, Giannoulaki M, Valavanis VD, Somarakis S (2008) Modeling and predicting potential spawning habitat of anchovy (Engraulis encrasicolus) and round sardinella (Sardinella aurita) based on satellite environmental information. Hydrobiologia 612:201-214
Siapatis A, Giannoulaki M, Valavanis VD, Palialexis A, Schismenou E, Machias A, Somarakis S (2008) Modelling potential habitat of the invasive ctenophore Mnemiopsisleidyi in Aegean Sea. Hydrobiologia 612:281–295
Tsagarakis K, Machias A, Giannoulaki M, Somarakis S, Karakassis I (2008) Seasonal and temporal trends in metrics of fish community for otter – trawl discards in a Mediterranean ecosystem. ICES Journal of Marine Science 65:539-550
Tsagarakis K, Machias A, Somarakis S, Giannoulaki M, Palialexis A, Papaconstantinou C, Valavanis V (2008) Habitat discrimination of juvenile sardines in the Aegean Sea using remote sensing environmental data. Hydrobiologia 612: 215-223
Tzanatos E, Somarakis S, Tserpes G, Koutsikopoulos C (2008) Catch length analysis, relation to minimum landing sizes and management implications from a Mediterranean small-scale fishery (Patraikos Gulf, Greece). Fisheries Research 93:125-134
Ganias K, Somarakis S, Machias A, Koutsikopoulos C (2007) Factors affecting the spawning period of sardine in two highly oligotrophic Seas. Marine Biology 151:1559-1569
Isari S, Psarra S, Pitta P, Mara P, Tomprou MO, Ramfos A, Somarakis S, Tselepides A, Koutsikopoulos C, Fragopoulu N (2007) Differential patterns of mesozooplankters' distribution in relation to physical and biological variables of the northeastern Aegean Sea (eastern Mediterranean). Marine Biology 151:1035-1050
Mantzouni I, Somarakis S, Moutopoulos DK, Kallianiotis A, Koutsikopoulos C (2007) Periodic, spatially structured matrix model for the study of anchovy (Engraulis encrasicolus) population dynamics in N. Aegean Sea (E. Mediterranean). Ecological Modelling 208:367-377
Somarakis S, Nikolioudakis N (2007) Oceanographic habitat, growth and mortality of larval anchovy (Engraulis encrasicolous) in the northern Aegean Sea (eastern Mediterranean). Marine Biology 152:1143-1158
Tzanatos E, Somarakis S, Tserpes G, Koutsikopoulos C (2007) Discarding practices in a Mediterranean small-scale fishing fleet (Patraikos Gulf, Greece). Fisheries Management and Ecology 14:277-285
Giannoulaki M, Machias A, Koutsikopoulos C, Somarakis S (2006) The effect of coastal topography on the spatial structure of anchovy and sardine. ICES Journal of Marine Science 63:650-662
Isari S, Ramfos A, Somarakis S, Koutsikopoulos C, Kallianiotis A, Fragopoulu N (2006) Mesozooplankton distribution in relation to hydrology of the northeastern Aegean Sea (eastern Mediterranean). Journal of Plankton Research 28:241-255
Karakassis I, Machias A, Pitta P, Papadopoulou KN, Smith CJ, Apostolaki ET, Giannoulaki M, Koutsoubas D, Somarakis S (2006) Cross-community congruence of patterns in a marine ecosystem: Do the parts reflect the whole? Marine Ecology Progress Series 310:47-54
Machias A, Giannoulaki M, Somarakis S, Maravelias CD, Neofitou C, Koutsoubas D, Papadopoulou KN, Karakassis I (2006) Fish farming effects on local fisheries landings in oligotrophic seas. Aquaculture 261:809-816
Pavlidis M, Kokokiris L, Paspatis M, Somarakis S, Kentouri M, Divanach D (2006) Gonadal development in hybrids of Mediterranean sparids: Sparus aurata (female) x Pagrus pagrus (male). Aquaculture Research 37:302-305
Ramfos A, Isari S, Somarakis S, Georgopoulos D, Koutsikopoulos C, Fragopoulu N (2006) Mesozooplankton community structure in offshore and coastal waters of the Ionian Sea (eastern Mediterranean) during mixed and stratified conditions. Marine Biology 150:29-44
Somarakis S, Ganias K, Siapatis A, Koutsikopoulos C, Machias A, Papaconstantinou C (2006) Spawning habitat and daily egg production of sardine in the eastern Mediterranean. Fisheries Oceanography 15:281-292
Tzanatos E, Dimitriou E, Papaharisis L, Roussi A, Somarakis S, Koutsikopoulos C (2006) Principal socio-economic characteristics of the Greek small-scale coastal fishermen. Ocean and Coastal Management 49:511-527
Tzanatos E, Somarakis S, Tserpes G, Koutsikopoulos C (2006) Identifying and classifying small-scale fisheries metiers in the Mediterranean: A case study in the Patraikos Gulf, Greece. Fisheries Research 81:158-168
Giannoulaki M, Machias A, Somarakis S, Karakassis I (2005) Wild fish spatial structure in response to presence of fish farms. Journal of Marine Biological Association of the United Kingdom 85:1271-1277
Giannoulaki M, Machias A, Somarakis S, Tsimenides N (2005) The spatial distribution of anchovy and sardine in the northern Aegean Sea in relation to hydrographic regimes. Belgian Journal of Zoology 135:151-156
Lefkaditou E, Siapatis A, Somarakis S (2005) Juvenile planktonic cephalopods sampled off the coasts of central Greece (Eastern Mediterranean) during winter. Research Bulletin. Phuket Marine Biological Centre 66:259-265
Machias A, Karakassis I, Somarakis S, Giannoulaki M, Papadopoulou KN, Smith C (2005) The response of demersal fish communities to the presence of fish farms. Marine Ecology Progress Series 288:241-250
Ramfos A, Somarakis S, Koutsikopoulos C, Fragopoulu N (2005) Summer mesozooplankton distribution in coastal waters of central Greece (eastern Mediterranean). I. Hydrology and group composition. Journal of the Marine Biological Association of the United Kingdom 85:755-764
Ramfos A, Somarakis S, Koutsikopoulos C, Fragopoulu N (2005) Summer mesozooplankton distribution in coastal waters of central Greece (eastern Mediterranean). II. Species assemblages. Journal of the Marine Biological Association of the United Kingdom 85:765-774
Somarakis S (2005) Marked inter-annual differences in reproductive parameters and daily egg production of anchovy in the northern Aegean Sea. Belgian Journal of Zoology 135:247-252
Ganias K, Somarakis S, Machias A, Theodorou A (2004) Identifying newly spawned female sardines by means of common fisheries data. Cybium 28:43-46
Ganias K, Somarakis S, Machias A, Theodorou A (2004) Pattern of oocyte development and batch fecundity in the Mediterranean sardine. Fisheries Research 67:13-23
Giannoulaki M, Machias A, Koutsikopoulos C, Somarakis S, Tsimenides N (2004) Acoustic-geostatistical assessment and habitat-abundance relationships of sardine in the Hellenic Seas. Rapp Comm int Mer Medit 37:363
Machias A, Karakassis I, Labropoulou M, Somarakis S, Papadopoulou KN, Papaconstantinou C (2004) Changes in wild fish assemblages after the establishment of a fish farming zone in an oligotrophic marine ecosystem. Estuarine Coastal and Shelf Science 60:771-779
Somarakis S, Palomera I, Garcia A, Quintanilla L, Koutsikopoulos C, Uriarte A, Motos L (2004) Daily egg production of anchovy in European waters. ICES Journal of Marine Science 61:944-958
Somarakis S, Stamataki C, Machias A, Papadopoulou K, Smith C, Karakassis I (2004) Condition and fecundity of red mullet over muddy and "coralligene" substrata. Rapp. Comm. int. Mer Medit. 37:443
Somarakis, S. Ganias, K., Tserpes, G., Koutsikopoulos, C., 2004. Ovarian allometry and the use of the gonosomatic index: a case study in the Mediterranean sardine, Sardina pilchardus. Marine Biology, 146: 181-189.
Ganias K, Somarakis S, Koutsikopoulos C, Machias A, Theodorou A (2003) Ovarian atresia in the Mediterranean sardine, Sardina pilchardus sardine. Journal of the Marine Biological Association of the United Kingdom 83:1327-1332
Ganias K, Somarakis S, Machias A, Theodorou A (2003) Evaluation of spawning frequency in a Mediterranean sardine population. Marine Biology 142:1169-1179
Giannoulaki M, Machias A, Koutsikopoulos C, Haralabous J, Somarakis S, Tsimenides N (2003) The effect of coastal topography on the spatial structure of the populations of small pelagic fish.Marine Ecology Progress Series 265:243-253
Machias Α, Somarakis S, Papadroulakis Ν, Spedicato M-T, Suquet M, Lembo M, Divanach P (2003) Settlement of the wreckfish (Polyprion americanus). Marine Biology 142:45-52
Stergiou KI, Machias A, Somarakis S, Kapantagakis A (2003) Can we define target species in Mediterranean trawl fisheries? Fisheries Research 59:431-435
Machias A, Maraveya E, Pavlidis M, Somarakis S, Divanach P (2002) Validation of annuli on scales and otoliths of common dentex (Dentex dentex). Fisheries Research 54: 287-294
Machias A, Maraveyia E, Pavlidis M, Somarakis S, Divanach P (2002) Ring formation on scales and otoliths of common dentex (Dentex dentex). Fisheries Research 54:287-294
Somarakis S, Drakopoulos P, Filippou V (2002) Distribution and abundance of larval fishes in the northern Aegean Sea -eastern Mediterranean-  in relation to early summer oceanographic conditions. Journal of Plankton Research 24:339-357
Somarakis S, Koutsikopoulos C, Machias A, Tsimenides N (2002) Applying the Daily Egg Production Method to small stocks in highly heterogeneous seas. Fisheries Research 55:193-204
Somarakis S, Machias A (2002) Age, growth and bathymetric distribution of red pandora (Pagellus erithrinus) on the Cretan shelf (eastern Mediterranean). Journal of the Marine Biological Association of the United Kingdom 82:149-160
Ganias K, Somarakis S, Caragitsou E, Koutsikopoulos C, Machias A, Theodorou A (2001). Differential egg production of sardine off the central Hellenic coasts in December 1999. Rapp Comm int Mer Medit 36:268
Loir M, Le Gac F, Somarakis S, Pavlidis M (2001) Sexuality and gonadal cycle of the common dentex (Dentex dentex) in intensive culture. Aquaculture 194: 363-381
Maraveya E, Somarakis S, Machias A (2001) Batch fecundity of anchovy, Engraulis encrasicolus, in the NE Aegean Sea. Rapp. Comm. int. Mer Medit. 36: 299
Somarakis S, Maraveya E (2001) Covariation in mean abundance of larval myctophids and zooplankton biovolumes in the NE Aegean Sea. Rapp. Comm. int. Mer Medit. 36:325
Tserpes G, Peristeraki P, Somarakis S (2001) On the reproduction of swordfish (Xiphias gladius L.) in the Eastern Mediterranean. ICCAT Collective Volume of Scientific Papers 52:740-744
Pavlidis M, Koumoundouros G, Stergioti A, Somarakis S, Divanach P, Kentouri M (2000) Evidence of temperature-dependent sex determination in the European Sea bass (Dicentrarchus labrax L.). Journal of Experimental Zoology 287: 225-232
Somarakis S, Maraveya E, Tsimenides N (2000) Multispecies ichthyoplankton associations in epipelagic species: Is there any intrinsic adaptive function? Belgian Journal of Zoology 130:125-129
Machias A, Somarakis S, Tsimenides N (1998) Bathymetric distribution and movements of red mullet Mullus surmuletus. Marine Ecology Progress Series 166:247-257
Somarakis S, Catalano B, Tsimenides N (1998) Catchability and retention of larval European anchovy, Engraulis encrasicolus, with bongo nets. Fishery Bulletin 96:917-925
Somarakis S, Kostikas I, Peristeraki N, Tsimenides N (1997) Fluctuating asymmetry in the otoliths of larval anchovy Engraulis encrasicolus and the use of developmental instability as an indicator of condition in larval fish. Marine Ecology Progress Series 151:191-203
Somarakis S, Tsimenides N (1997) A Daily egg Production Method biomass estimate of the northern Aegean Sea anchovy stock. In: Motos L. (ed.) 'Improvements of the Daily Egg Production Method techniques'. Ozeanografika 2:133-148