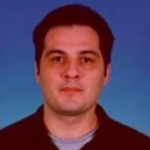 Vasilis Valavanis
Research Associate
Short CV
BSc in Natural Resource Conservation, School of Natural Resource Conservation, University of Florida, USA (1994)
MSc in Natural Resource Conservation, School of Natural Resource Conservation, University of Florida, USA (1996)
He has attended special training courses in Geographic Information Science, Remote Sensing and Aquatic Sciences (Fisheries, Oceanography) at the Schools of Geography, Zoology, and Ocean Engineering of the University of Florida, USA.
In 1997, he joined the Institute of Marine Biology of Crete (Greece) as GIS research scientist, participating in research projects and since 2002, he is a member of the research staff of the Hellenic Centre for Marine Research (HCMR) coordinating and participating in projects. with European and National funding. Up to 2013, he coordinated 3 European-funded projects and participated in another 13 projects with a total budget for coordinated or scientific responsibility funding of more than 1MECU.
He has research interests on the application of GIS and Remote Sensing in Aquatic Sciences, depicted in one authored book and numerous special issues (see http://arch.her.hcmr.gr).
He is a member of the scientific and organizing committee of the triennial Int'l Symposium of GIS and Spatial Analysis in Aquatic Sciences. He is Associate Editor of Hydrobiologia (Springer) and a member of the editorial board of Scientia Marina.
Up to 2013, he has contributed more than 125 publications. For a complete publication record and other relevant information, visit Valavanis profile.
Publications
Martin CS, Giannoulaki M, De Leo F, Scardi M, Salomidi M, Knitweiss L, Pace ML, Garofalo G, Gristina M, Ballesteros E, Bavestrello G, Belluscio A, Cebrian E, Gerakaris V, Pergent G, Pergent-Martini C, Schembri PJ, Terribile K, Rizzo L, Ben Souissi J, Bonacorsi M, Guarnieri G, Krzelj M, Macic V, Punzo E, Valavanis V, Fraschetti S (2014). Coralligenous and maerl habitats: predictive modelling to identify their spatial distributions cross the Mediterranean Sea. Scientific Reports 4:5073, 1-8.
Giannoulaki M, Iglesias M, Tugores MP, Bonanno A, Patti B, De Felice A, Leonori I, Bigot JL, Tičin AV, Pyrounaki MM, Tsagarakis K, Machias A, Somarakis S, Schismenou E, Quinci E, Basilone G, Cuttitta A, Campanella F, Miquel J, Oñate D, Roos D, Valavanis V (2013) Characterising the potential habitat of European anchovy Engraulis encrasicolus in the Mediterranean Sea at different life stages. Fisheries Oceanography 22:69-89
Giannoulaki M, Pyrounaki MM, Liorzou B, Leonori I, Valavanis DV, Tsagarakis K, Bigot JL, Roos D, De Felice A, Campanella F, Somarakis S, Arneri E,Machias A (2011) Habitat suitability modelling for sardine (Sardina pilchardus) juveniles in the Mediterranean Sea. Fisheries Oceanography 20:367-382
Hermosilla C, Rocha F, Valavanis VD (2011) Assessing Octopus vulgaris distribution using presence-only model methods. Hydrobiologia 670:35-47
Somarakis S, Ramfos A, Palialexis A, Valavanis VD (2011) Contrasting multispecies patterns in larval fish production trace inter-annual variability in oceanographic conditions over the NE Aegean Sea continental shelf (eastern Mediterranean). Hydrobiologia 670:275-287
Tugores MP, Giannoulaki M, Iglesias M, Bonanno A, Ticina V, Leonori I, Machias A, Tsagarakis K, DIaz N, Giraldez A, Patti B, De Felice A, Basilone G, Valavanis V (2011) Habitat suitability modeling for sardine (Sardina pilchardus) in a highly diverse ecosystem: the Mediterranean Sea. Marine Ecology Progress Series 443:181-205
Visser F, Hartman KL, Pierce GJ, Valavanis VD, Huisman J (2011) Timing of migratory baleen whales at the Azores in relation to the North Atlantic spring bloom. Marine Ecology Progress Series 440:267-379
Surugiu V, Revkov N, Todorova V, Papageorgiou N, Valavanis VD, Arvanitidis C (2010) Spatial patterns of biodiversity in the Black Sea: An assessment using benthic polychaetes. Estuarine, Coastal and Shelf Science 88:165-174
Arvanitidis C, Somerfield P, Rumohr H, Faulwetter S, Valavanis VD, Vasileiadou A, Chatzigeorgiou G, Vanden Berghe E, Vanaverbeke J, Labrune (2009) The biological geography of the European seas: results from the macrofaunal inventory of the soft-substrate communities. Marine Ecology Progress Series 382:265-278
Valavanis VD, Katara I, Palialexis A (2009) Reply to comment on Marine GIS: Identification of mesoscale oceanic thermal fronts. International Journal of Geographical Information Science 23:375-378
Bellido JM, Brown AM, Valavanis VD, Giraldez A, Pierce GJ, Iglesias M, Palialexis A (2008) Identifying essential fish habitat for small pelagic species in Spanish Mediterranean waters. Hydrobiologia612:171-184
Benchoucha S, Berraho A, Bazairi H, Katara I, Benchrifi S, Valavanis VD (2008) Salinity and temperature as factors controlling the spawning and catch of Parapenaeus longirostris along the Moroccan Atlantic Ocean. Hydrobiologia 612:109-123
Faulwetter S, Gotsis P, Reizopoulou S, Orfanidis S, Kevrekidis T, Nicolaidou A, Simboura N, Malea P, Dounas C, Mogias A, Valavanis VD, Arvanitidis C (2008) ElNet: The Greek biodiversity transitional waters information system. An exemplar for the development of distributed information networks in Europe. Aquatic Conservation: Marine and Freshwater Ecosystems 18:S135-S142
Fernandes RN, Valavanis VD (2008) A GIS-based tool for storage, selection and visualization of time series 4D marine datasets. Hydrobiologia 612:297-300
Giannoulaki M, Valavanis VD, Palialexis A, Tsagarakis K, Machias A, Somarakis S, Papaconstantinou C (2008) Modelling the presence of anchovy Engraulis encrasicolus in the Aegean Sea during early summer, based on satellite environmental data. Hydrobiologia 612: 225-240
Lefkaditou E, Politou C-Y, Palialexis A, Dokos J, Cosmopoulos P, Valavanis VD (2008) Eastern Ionian Sea: Influences of environmental variability on the population structure and distribution patterns of the short-fin squid Illex coindetii (Cephalopoda: Ommastrephidae). Hydrobiologia 612:71-90
Pierce GJ, Valavanis VD, Guerra A, Jereb P, Orsi-Relini L, Bellido JM, Katara I, Piatkowski U, Pereira J, Balguerias E, Sobrino I, Lefkaditou E, Wang J, Santurtun M, Boyle PR, Hastie LC, MacLeod CD, Smith JM, Viana M, Gonzalez AF, Zuur AF (2008) A review of cephalopod-environment interactions in European Seas. Hydrobiologia 612:49-70
Schismenou E, Giannoulaki M, Valavanis VD, Somarakis S (2008) Modeling and predicting potential spawning habitat of anchovy (Engraulis encrasicolus) and round sardinella (Sardinella aurita) based on satellite environmental information. Hydrobiologia 612:201-214
Siapatis A, Giannoulaki M, Valavanis VD, Palialexis A, Schismenou E, Machias A, Somarakis S (2008) Modelling potential habitat of the invasive ctenophore Mnemiopsisleidyi in Aegean Sea. Hydrobiologia 612:281–295
Tsagarakis K, Machias A, Somarakis S, Giannoulaki M, Palialexis A, Papaconstantinou C, Valavanis V (2008) Habitat discrimination of juvenile sardines in the Aegean Sea using remote sensing environmental data. Hydrobiologia 612: 215-223
Tserpes G, Peristeraki P, Valavanis VD (2008) Distribution of swordfish in the eastern Mediterranean, in relation to environmental factors and the species biology. Hydrobiologia 612:241-250
Valavanis VD, Pierce GJ, Zuur AF, Palialexis A, Saveliev A, Katara I, Wang J (2008) Modelling of essential fish habitat based on remote sensing, spatial analysis and GIS. Hydrobiologia 612:5-20
Arvanitidis C, Valavanis VD, Eleftheriou A, Kitsos MS, Kirmtzoglou I, Petrov A, Galil B, Costello M, Faulwetter S (2006) MedOBIS: Biogeographic Information System for the eastern Mediterranean and Black Sea. Marine Ecology Progress Series 316:225-230
Georgakarakos S, Koutsoubas D, Valavanis VD (2006) Time series analysis and forecasting techniques applied on loliginid and ommastrephid landings in Greek waters. Fisheries Research 78:55-71
Valavanis VD, Katara I, Palialexis A (2005) Marine GIS: Identification of mesoscale oceanic thermal fronts. International Journal of Geographical Information Science 19:1131-1147