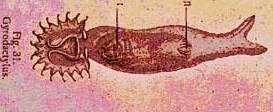 Throughout Europe, and definitely in the stunningly species-rich Balkans, biodiversity is far from being completely uncovered or understood. A team of IMBRIW researchers (Alcibiades Economou, Sofia Giakoumi, Maarten Vanhove and Stamatis Zogaris), in collaboration with the University of Leuven (Belgium) and the University of Zagreb (Croatia) discovered seven new flatworm species – five in Greece and two in Croatia. The new species are minute parasites living on the gills and fins of freshwater fishes. They belong to the genus Gyrodactylus and are not bigger than a couple of tenths of a millimeter. Researchers are relatively free to choose the scientific names they give to newly discovered species, as long as they follow some rules making the names valid in terms of zoological nomenclature. Therefore, this offers a nice opportunity to honor, commemorate or thank colleagues and institutes, or to link a new species eternally to the person who found it or the location where it was found.
One of the new species was named Gyrodactylus charon, after the ferryman who, in Greek mythology, ferried souls to the underworld. The species was discovered in the Acheron River, one of the legendary passages into the underworld. Other species were named after prominent historical biologists (Gyrodactylus benedeni and Gyrodactylus dorlodoti) or colleagues of the research team (Gyrodactylus meelkopae and Gyrodactylus hellemansi). Gyrodactylus bios received the name of the biology student union of the University of Leuven, while the name Gyrodactylus douglasadamsi honors the late English writer and conservationist Douglas Adams.
The results of this research were published in the specialized journal Parasitology Research (volume 113, number 2, pages 653 to 668) in 2014.
Reported by
Maarten Vanhove