At this year's exhibition "Boat & Fishing in Greece" HELEXPO Maroussi, Athens, Greece Dr. Paraskevi Karachle (Institute of Marine Biological Resources and Inland Waters, HCMR) and Dr. Marika Galanidi (Ustun Energy R & D SME), were hosted at the booth of the Panhellenic Union of Recreational Fishers (PEEA). The researchers, within the framework of the European COST-ALIEN CSI program, are exploring the socio-economic impact of alien species on fisheries.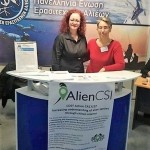 The survey is conducted with the form of properly formulated questionnaires.
The contribution of recreational fishers to research is essential for recording alien species and their impacts, with the aim of better management.
This is an initiative of further collaboration between the Ellenic Network of Aquatic Alien Species (ELNAIS) and PEEA, towards exchange of information with recreational fishers on alien species. (Read more …)