An original environmental education action had the opportunity to attend the Greek Secondary School of London on Friday, November 3, 2017, organized by the Hellenic Center for Marine Research (HCMR) within the frame of the program "Fish-Net Greece" and in collaboration with the Zoological Society London (ZSL).
This was a live digital outreach activity titled "HCMR in your classroom", aimed at raising awareness among pupils about the conservation of endangered freshwater fish in Greece.
As part of this action, students had the opportunity to learn about the endemic freshwater fish species of the genus Valencia (Corfu Killifish), via live teleconference (Skype); species that live exclusively in the region of Western Greece and are in danger of extinction! In addition, pupils watched, in real time, a team of scientists from HCMR working in the field and demonstrating the methods used to monitor the ecological quality of the Greek rivers, in order to preserve biodiversity. The sampling site selected for this action was the spring-fed river of Agios Dimitrios (Lesini) which supports one of the healthiest populations of Valencia robertae in one of its most intact habitats!
Repeat action was followed on the next day for the 1st Scouting Team of Kastoria. See the related Blog: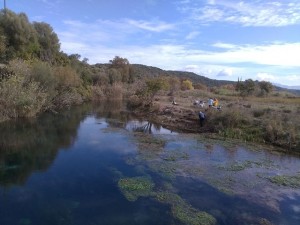 «Το ΕΛΚΕΘΕ στην σχολική σας αίθουσα»
Μια πρωτότυπη δράση είχε την ευκαιρία να παρακολουθήσει το Ελληνικό Γυμνάσιο – Λύκειο του Λονδίνου την Παρασκευή 3 Νοεμβρίου 2017, που οργανώθηκε από το Ελληνικό Κέντρο Θαλασσίων Ερευνών (ΕΛΚΕΘΕ) στα πλαίσια του προγράμματος «Fish-Net Greece» και σε συνεργασία με την Ζωολογική Εταιρεία του Λονδίνου (ZSL).
Πρόκειται για τη δράση «Το ΕΛΚΕΘΕ στην σχολική σας αίθουσα» («HCMR in your classroom»), μια ζωντανή ψηφιακή δράση περιβαλλοντικής εκπαίδευσης, με στόχο την ευαισθητοποίηση των παιδιών στην διατήρηση των απειλούμενων ψαριών του γλυκού νερού της Ελλάδας.
Στα πλαίσια της δράσης αυτής, οι μαθητές είχαν την ευκαιρία μέσω τηλεδιάσκεψης (Skype) να ενημερωθούν για τα ενδημικά είδη ψαριών του γένους Valencia (Ζουρνάς) που ζουν αποκλειστικά στην περιοχή της Δυτικής Ελλάδας και κινδυνεύουν με εξαφάνιση! Στη συνέχεια παρακολούθησαν από ομάδα επιστημόνων του ΕΛΚΕΘΕ, σε πραγματικό χρόνο, μια επίδειξη των μεθόδων που χρησιμοποιούνται για την παρακολούθηση της οικολογικής ποιότητας – κατάστασης των ποταμών της Ελλάδας, με σκοπό την διατήρηση της βιοποικιλότητας. Η θέση δειγματοληψίας που επιλέχθηκε για την πραγματοποίηση της δράσης, ήταν στο ποτάμι του Αγ. Δημητρίου (Λεσίνι) το οποίο υποστηρίζει έναν από τους πιο υγιείς πληθυσμούς της Valencia robertae σε ένα από τα πιο άθικτα ενδιαιτήματά της!
Επανάληψη της δράσης παρακολούθησε την επόμενη ακριβώς ημέρα η 1η Ομάδα Προσκόπων της Καστοριάς. Δείτε το σχετικό Blog: